Countdown Game App – Countdown Letters
and Numbers
Countdown Game App offers four games in one
Our word game app is based on the tv game show Countdown or Letters and Numbers (in Australia).

Countdown
To start with download the app from the App store or the Play Store and try it for free. Begin with Letters. Here try to find the longest word with a random selection of 9 letters. Importantly you choose the number of vowels and consonants that make up the nine letters for yourself.
Secondly in the numbers section, players try to get as close to a 3 digit number as possible. Naturally, you can choose how many large and small numbers you have. As you play you will realise which
option is best for you.
Next is a conundrum game and players must try to find a 9 letter anagram.
Fourthly we have the Word Mix – this puzzle is an 8 letter anagram. Fortunately you have a clue in Word Mix.
Find your own level
We have introduced levels so you can start at Level 1 and work your way up. You will improve with practice.
Another key point is that games have a time limit of 30 seconds when playing in device or multiplayer mode.
Countdown Game App
Play or Practice Mode
In addition there is a free play (practice mode) with no time limits and no scoring. Significantly this is a good way to introduce yourself to the game. Another key point is to practise here before pitting yourself against your device or others.
Play Combo Mode with Countdown Game App
Finally there is a combination match game which follows the format on the TV show's order of games. In other words there are letters rounds, number rounds, a wordmix and a conundrum.
Because there are different levels of play you can start on a more equal basis with your competitor. Specifically at Level one you have a good chance of beating your device. Expressly, Levels are on both the Android version and Apple devices.
Additionally extra starter letters give some clues at the lower levels for letters and conundrum .
Awards and Leader Boards
Furthermore badges are awarded for achieving good results in each game. Competitively leaderboards are available for your percentage against your device. Also there are rankings for the number of total badges accumulated.
Recent additional features are daily challenges available for the letters, numbers and combo games to be played against the world.
In conclusion, Letters and Numbers, Countdown is a great game to play. Gradually increase your word knowledge and mental math calculation skills.
Letters and Numbers Countdown game app is now available on  Mac OS Store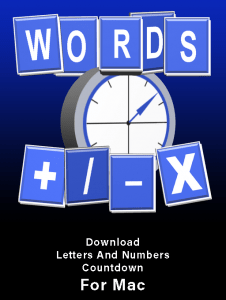 SaveSave
SaveSave
SaveSave
SaveSave
Countdown Letters and Numbers can now be found on Best Quiz Games page of freeappsfforme.com