How I first met Chester
Czeslaw Fickowski, survivor of many unfortunate events, was treasurer of the Tableland Bridge Club when I joined in 1982. A few people who were interested in playing bridge and forming a club put a notice in the local paper in 1981. Czeslaw responded. It was a very mixed bag of people who attended the meeting held at the Lake Eacham Hotel in Yungaburra. Some people wanted to learn to play and some already knew how. I am not sure when or where Czeslaw learnt to play Bridge. But he played Bridge when he was in the Polish Army in the 1930's. Here in Australia he was known as Chester as Australians are not the best at learning to pronounce unusual names.
My husband Leif has the problem as however many times he tells people it is pronounced LAFE, they insist on saying LEAF. I think in his case it is because people have seen it spelt. My grandchildren had no problem calling him by his correct name when they had only heard it. Bjorg a Norwegian friend and bridge player told me when I first met her that her name phonetically was BYORIK but is happy if most people can manage BYORG. Someone asked her what her name was in English.
From Many Nations
In 1982 a group of Tablelanders from Mareeba, Atherton, Malanda, Ravenshoe, Kuranda and Tarzali formed the Tableland Bridge Club. There were an unusually high number of Americans, some Australians, POMs, South Africans and Dutch but only one Pole. Chester was an unforgettable character. He was essentially European and a gentleman. He treated everyone with respect and deference and was very much a follower of correct protocol. I got to know him very well over the years and he was a good friend. We visited each other's homes and went away to Bridge Congresses together. I remember he was a stickler for correct timekeeping. If he was invited to come for 7.00pm and if he was early, he would park his car down the road until it was one minute to seven and then come so he always arrived punctually.
European in attitude
Some Australian behaviour he found difficult as do many of us born and brought up in Europe. I first encountered Australians en masse when I went to live in Port Moresby Papua New Guinea. Australians had been the administrators of the country but it had achieved independence in 1975. I arrived with my family in January 1979 – my first husband Tom had a contract with the Lands Department and was a Town Planner – not that there were many towns.
The Australian influence was still strong in 1979. I applied for a job at Port Moresby International High School. In England I had been working as a teacher in a Girls' Grammar School for six years. My headmistress was Miss Gerrard and the Deputy Head Mrs Goring. After six years I still called them by their formal names.
Over familiarity of strangers
When I arrived at Port Moresby High School two men greeted me and introduced themselves as Ian and Terry. Ian was the Headmaster and Terry the Deputy. The instant use of first names by people you have only just met I found strange and unsettling. I think it is like people in France calling you "tu" on first acquaintance and not "vous".  Chester remarked on this use of first names by people you hardly knew. It must have been more difficult for him when he arrived in 1951. I know the Australians are only being friendly. They must find us Europeans stand-offish but it is difficult to forget the mores of your own culture.
I also found it strange and still do that in a conversation an Australian will keep mentioning your name at the end of every other sentence. This is especially apparent when politicians are being interviewed on tv and keep bonding with the interviewer by using the interviewer's first name. How you can have an in-depth searching interview on first name terms is still difficult for me to fathom. Having your name pronounced incorrectly several times in a conversation is very annoying.
Returned Services League
I have become more accustomed to the over-familiarity of strangers but it has taken over thirty-five years. Chester when I met him was in his 70's and had been in Australia over thirty years. He had many Australian friends and was the treasurer of the Herberton RSL association.
The RSL or Returned Services League is similar to Veterans Associations in the US or the British Legion in the United Kingdom. Chester had been a member of the RSL since he came to Australia. He was well liked and accepted there as he had been a regular soldier in the Polish Army and had fought in the Second World War. The Germans captured him in the early days of the war. He was a survivor of the Prisoner of war camp where he spent almost six years. Every Anzac Day he marched with his Australian mates. My second husband Leif was not allowed to join the RSL although he had been an officer in the Royal Swedish Navy. Sweden was neutral in the Second World War (and the First for that matter).
The Tableland Bridge Club
Over the years I learnt a lot more about Chester but at first at the club he was another bridge player. In the early 1980s' his partner was often Ivy Moynihan. Ivy was a retired primary school teacher. She was a local having been born in Tolga –  a township 4 kms from Atherton, where the Bridge Club met. She had taught at the old Atherton Primary School. The school was still in existence when I came to the Atherton Tablelands and my younger son Tom was a pupil there for two years.
Later after a new school was built the old school was let out to Community Organisations and became the home of the Bridge Club. Before that we had played in the RSL Hall in Atherton for several years. Chester and Ivy did quite well at Bridge despite the fact that they played different systems.
Bridge Systems
Chester played "Culbertson" an old system taught in both the US and Europe. I do not know a lot about it but apparently you can open one no-trump with 19 points which is unusual. My husband Leif who learnt bridge watching his parents play in Stockholm also learnt Culbertson. He and his two brothers sat at a corner of the table and followed the play of their parents. He and his younger brother still play Bridge.
Ivy played Standard American Five Card Majors. I am not sure whether she had played bridge before the club started.  One of the Americans who joined the club was Helen Thompson who at that time was living in Mareeba 30 kms from Atherton. She gave lessons and was in fact my teacher. My husband Tom and my fourteen-year-old son Steve and myself attended lessons.
We had arrived in Atherton in November 1981 and early in 1982 attended a function organised by the Shire Council at the Library. The event was aimed at newcomers to the Tablelands and there were representatives there from local clubs and associations. I expressed an interest in Bridge and also the Alliance Française, which I did try for a while. But they were in the throes of a power struggle between a group of people and John Huon de Navrancourt as he called himself.  John had apparently run the French Resistance single handed.
The Cairns Bridge Club
At the Bridge Club most people seemed to play Standard American Five Card Majors meaning you had to have five hearts or five spades to open the auction in that suit. Helen actually taught us four card majors so we were different from the start. Ivy and Chester played their own systems and although there was occasional friction seemed to manage quite well. Helen was very keen to introduce us to stiffer competition and encouraged us to play in the big city of Cairns when the Cairns Bridge Club had a Congress.
System Cards
I still play in Congresses at the Cairns Bridge Club and at the beginning the tournament the director says. "We are playing under the rules of the Australian Bridge Federation. Each pair must have system cards so that their opponents can understand the auction. The system cards must be identical." This always reminds me of Chester and Ivy. Helen had told her group of Hillbillies about system cards but not all the message had got through. Chester had a system card which proclaimed he was playing Culbertson and Ivy had one that said Standard American Five Card Majors. One opponent looked at the cards and said "But they're different! How are we supposed to know what you are playing?"
"We do not want you to know," replied Chester.
The Reddicliffes
Chester and Ivy were not the only problem. Other founder members of the Bridge Club were Kate and Edgar Reddicliffe who lived in Mareeba. When asked what system they played they would reply, "The one we learnt on the boat." They had been on a cruise at some time and that is where they learnt to play bridge. Their strong bid was one club so it may have been some variant of Precision but it was difficult to tell. They also went to play in the big smoke of Cairns. Someone asked Kate what signals they were using to which Kate replied, "Are you accusing us of cheating?"
Slow Driving
Kate and Edgar were another pair of characters. Kate died a few years ago and was over 100. She played competition tennis until she was over 70. She and Edgar had a very large family. They would have been in their seventies when I met them and Edgar used to drive over to Atherton in a very large four-wheel drive. He drove very slowly and was stopped by the police more than once for slow driving. When Kate said they were driving to Western Australia to see one of their sons, it was supposed this trip might take several months.
UFO's
I remember them celebrating their sixtieth wedding anniversary and we had a party at the Bridge Club. Edgar told me they were both from Cairns and had been married in Cairns and went on honeymoon to Kuranda and went up the range on the Kuranda train and Kate cried all the way. She was 16 when she married. Edgar had some connection with mining and worked in the outback. In a remote location he saw huge circular track marks and believed in UFO's. He was not a person for fanciful thoughts so he must have seen something. The Reddicliffes were Methodists and did not drink so I tend to believe what he said he saw.
Breaking into the RSL
In the early days of the Bridge Club, playing at the RSL was good. Chester always used to go into the RSL bar at the Interval as there was a TV in there and he wanted to know the Gold Lotto results. I do not remember him ever winning. We used to hold an event called "The Australia Wide Pairs" and this particular year it was to be held on Anzac Day 25th April.
Anzac Day is very important to Australians. The day commemorates the loss of life and bravery of Australians and New Zealanders in the Gallipoli Landings in Turkey in 1915. It is a solemn day and a public holiday. It starts with a Dawn Service at the war memorials in thousands of towns in Australia. The landings started at dawn. The veterans and others march through the towns. There are then lengthy drinking sessions and the play of the game of two up. Chester always commemorated this day.
Australia Wide Pairs
The Australian Bridge Federation organises the Australia Wide Pairs. All affiliated clubs play the same hands of bridge and they must be played in the same week everywhere. The Tableland Club only played once a week and that was on a Wednesday evening. All the duplicate boards had been dealt the set hands and we arrived at the Atherton RSL only to find it was all locked up as following the Anzac Day celebrations the club had closed for the day. No-body had told the Bridge Club. Assembled outside we had to think of something. Frank Stanbridge another character saw that a window was slightly ajar and got my son Steve to climb in and open the door from inside and we all trooped in and played the tournament – probably the only Bridge Club to break into an RSL on Anzac Day.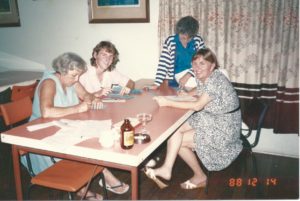 Hand scoring at the Christmas party 1988 at the RSL. From left Audrey Visagie, my son Tom, Rosemary Hitchcock and myself.
In the late 1980's the club stopped playing at the RSL and had a room at the old school which they shared with the chess club. Chester continued his association with the RSL through the Herberton Branch until his death at the age of 90 in 1998. His fellow members respected him as a former regular soldier in the Polish army. When he was in the prisoner of war camp, he had to keep from his captors the fact that he was fluent in Russian. If they had found out he would have been executed. So once more he was a survivor.
Survivor – Russia 1909 to 1923
He was fluent in Russian as he was brought up in Moscow. He was born in Warsaw but taken to Russia by his parents when he was three weeks old as his father who was an engineer had a job in Moscow. His younger sister was born in Moscow. He lived in Russia or the Soviet Union until 1923. I remember when the Bolshoi Ballet came to perform in Cairns, there was a lot of interest by the ladies of the bridge club about going to Cairns to see this world famous company. I asked Chester if he was going to which he replied, "No, I've already seen them in Moscow in 1915."
Eye test
There were few remaining mementos of that time. He did show me a portrait photograph of his sister with the name of a Moscow studio on it. He did tell me a story about himself when he needed glasses as he could not see the blackboard properly at school. His father took him to get glasses. He had his eyes tested and them tried on various frames. When he found a frame he liked he told his father he could see much more clearly in these glasses and his father replied "And it will be even better when they have lenses in them!"
Survivor of The Russian Revolution
Chester lived in Moscow during the Russian revolution. He told me he went up onto the roof of their apartment building during a demonstration and was shot at – he did not know whether it was the police or the demonstrators who fired. So again he was a survivor. He did attend meetings at this time and heard both Lenin and Trotsky speak. When the first world war ended in 1918, there were more difficulties for the Polish residents in Moscow.
Survivor of Internment
It was not long before another dispute broke out between Poland and the new Soviet Government. Poles in Russia were interned and the Fickowski family were sent to an internment camp near Kiev. Chester experienced his first imprisonment here. Conditions were far from acceptable and when they were eventually sent back to Poland in 1923 he was suffering from scurvy amongst other things. They were sent back to Warsaw by rail in cattle trucks and the journey took several days and Chester was sent to hospital on return. He was a survivor again.
Survivor of The Second World War
Chester married in the 1930's and had a son born in 1937. In the Prisoner of War camp, he had little news of his family. When he was released he made his way to Warsaw and to the apartment building where the family had lived. The janitor of the building told Chester that his wife and seven-year-old son had been executed by the Germans in the reprisal for the Warsaw uprising. They had both been shot through the back of the head outside their apartment building. Chester was a survivor but his wife and son were not.
Survivor of Communist Poland
It was quite some time after I met Chester that I learnt what had happened to him in the second world war. Some things he told me himself and some were told to me by Ivy, his bridge partner. It was difficult for me then and still is to comprehend how he coped with the news he received on returning to Warsaw. When and why he left Poland I do not know but I sensed from things that he said that he did not like the communist regime in Poland.
Pink is too red for me
When my younger son, Tom was in Grade 12 at Atherton High School he studied Modern History and when they were studying the Russian Revolution, Chester was invited to the school to address the class and tell how he had lived through the days of the revolution in Moscow. At the end of his talk there were questions and he was asked for his views on communism and replied, "Pink is too red for me!"
Solidarnos
I am not sure either whether it was unsafe for him there as he had been a German prisoner for so long or whether his knowledge of Russian was a problem. My knowledge of Polish was limited to "Good Day!". My father had served in the RAF in the Second World War and there had been a sizable number of Poles in his Squadron. I thought it was "Gin Dobri" which is how my dad pronounced it and it must have been close as Chester understood. According to Google translate it is "Dzien dobry". After Lech Walesa led a movement against the communists is Poland "Solidarnos" was added to our conversations.
Survivor of Displaced Persons Camp Germany 1945 – 1950
From what I can piece together, Chester lived in Germany in displaced persons' camps between 1945 and 1950. and was again a survivor. He did tell me once that he worked as a driving instructor for a time. This I later thought a little odd. When I arrived on the Atherton Tablelands in 1981, there were in Atherton and its immediate environs, no traffic lights and no roundabouts. When a small roundabout was put in at the end of Main Street, Atherton, Chester rang me to ask if he could get to my house without having to use the roundabout!
Australia 1951 – 1999
He met his second wife, Edith in Germany and she was German and a nurse. They had two children, a girl called Weronika and a son Jerzy. I did meet Jerzy in the 1980's when he visited his father. He was known as George. They arrived in Australia as refugees in January 1951. I found this out recently when I did a search for Chester on Ancestry. The immigration records show the family arriving by boat in Fremantle. I do not think they came all the way from Germany by boat. I remember Chester telling me that he came out by plane and that in 1950 there were no long haul flights and there were a lot of short hops in DC3 planes. Maybe they took a boat from Indonesia after plane journeys.
Tully Falls Hydro Scheme 1958 – 1972
Chester was described as a General Labourer on the manifest. He did work on the Tully Falls Hydro Scheme in Far North Queensland. Whether this was arranged before he left Europe I do not know. He and Edith are both on the electoral roll in 1958 and were living in Cardstone which was the township for the construction workers on the Tully Hydro Scheme. Chester is described as a time-keeper and his wife as a clerk-typist. Chester and Edith separated at some time after this and I do not know if she left with the children. When I visited his home in Moffatt Street Herberton in the 1980's there was a photo of the family of four taken in the mid 1950's and it was in a prominent place on a dresser.
Moffat Street Herberton 1972 – 1999
In 1972 Chester was still working as a clerk and living in Cardstone but was now married to Halina who was on "home duties".  Chester would have been 65 in 1972 and probably retired then. He moved to Moffatt Street in Herberton on the Atherton Tablelands and his home was a small miner's cottage. It has a small front veranda and a living room, kitchen, bedroom and bathroom. I think Halina probably moved here with him but she died in May 1975 aged 49 and is buried in Herberton Cemetery. Chester is recorded as living in Moffatt Street on the 1977 electoral roll and lived there until his death in 1999.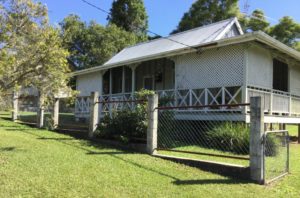 Hospitality
I visited his home many times and played a lot of bridge there. Despite it being very small, Chester used to hold Bridge Sessions there sometimes for three tables with two in the living room and one table in the bedroom. He was a generous host and with the help of a neighbour provided supper or lunch according to the occasion. I remember once when I had driven Chester back from a Bridge Congress in Townsville he promised me a speciality of his when we got to Moffatt Street. This was a Polish Vodka with a herring chaser and this was duly delivered and was very interesting.
Polish Vodka
He said that it was good to be able to get Polish Vodka in Australia. When he was working in Cardstone the township store had bought in Polish Vodka for him and he enjoyed a glass in the evenings. At one time he thought he was being sold bad vodka and returned the bottle and was given another. This happened three times before he found out Halina had been drinking his vodka when on home duties and filled the bottle back to previous level with water. I am not sure if Halina was Polish or how Chester came to meet her. There was a story that a relative of hers had been taken by a crocodile at Tully Heads and it may have been her first husband.
Chester had a large mulberry tree in his back garden. Every year he provided members of the Tableland Bridge Club with Mulberry jam made by his good neighbour. As well as his interest in Bridge Chester also had the RSL.
Medal Recipient 50 years after the end of the war
Because he was also still in touch with family in Poland he discovered he was owed a medal. A nephew of his had seen that Chester was listed in Poland as a recipient of a medal but had never claimed it. Chester contacted the Polish Embassy in Canberra and an official came up to Herberton to present Chester with his medal 50 years after the end of the war. It was presented at an RSL ceremony.
Family
Chester did have grandchildren. His daughter had married and had children. She was killed in a road accident and her family lived in Mount Isa. Chester did keep in touch with them but said he did not really like them. His son George had had meningitis as a child and this left him impaired. He did have a job as a labourer but I think it was in a sheltered workshop. George did visit his father which is how I came to be introduced to him.
Bridge Mate
Playing Bridge was a great outlet for Chester. He was renowned for wanting to play all the contracts in no-trumps and it was often a competition to see who could bid no-trumps first. This wanting to hog the contracts meant he was not the most popular or sought after partner but his play was very good. I remember playing with him in a competition in Townsville and we were playing in a team with my husband Tom and my son Steve.
Six No Trumps Doubled and Re-Doubled
We were not doing very well and we came to play against Laurie Kelso and partner. Laurie Kelso is now an important personage in Australian Bridge and a key Bridge Director and writer of articles on the laws of Bridge. He was quite important then. Chester had opened the bidding and I had raised him with a very limited hand just to be competitive. Chester did not need much encouragement and to my horror bid 6 no-trumps. Laurie doubled him and Chester grandly re-doubled. This was going to be bad but somehow the defence got it wrong and Chester made six no-trumps doubled and re-doubled. He was delighted. It was still not enough to win the match; obviously we were let down by our team mates.
Chester's Bridge Partners
Chester had many bridge partners. One of them was Zoe Bebbington. Zoe was a very grand lady, brought up to enjoy the life of the British Raj in India. She had a very refined British accent and had taught at Cheltenham Ladies College. She had also surprisingly swum for Northern Ireland in competitive swimming. Zoe and Chester came from startlingly different backgrounds but had Bridge in common. Zoe lived in Tumoulin about 20 kms from Herberton. She happened to be there as she had come to live with her daughter Priscilla who had come to Australia with her husband David de Vaux. They had bought land at Tumoulin and it was subdivided into several small blocks. Zoe had a small cottage on one of these blocks.
Brunch At Toumoulin
Zoe did not play at the club often but we did enjoy social bridge with her at her home. She would hold bridge days and there would be three tables of players. We would be asked to arrive around 9:30 in the morning and would play a few hands and then have a British Raj Brunch. There would be lovely Indian food, with curries, chutneys, pickles, chapattis and pappadums. The drink of choice was whisky. I am not sure if Chester stuck to vodka. Then there would be more bridge. I am not sure what the standard was but it was very enjoyable.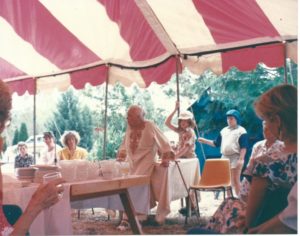 Zoe at her 80th birthday party at Tumoulin.
Occasionally Zoe would go to Chester's for bridge and I remember making up a fourth there on one occasion. Zoe's son in law was teaching English at Mount St Bernard's school in Herberton. He had brought her in the morning as she did not drive. I left around four in the afternoon and Zoe was waiting for David to pick her up. She waited and waited until it was obvious he was not coming. He had forgotten and for some reason was unable to come for her later. So she had to stay the night at Chester's and shared his bedroom. She told me I think tongue-in-cheek that she was afraid this would do nothing for her reputation. They were both around 80 at the time.
Bert the Vet
In the late 1990's Chester partnered Bert a local vet who was originally from the Netherlands. I do not know how proficient a vet he was. He greatly upset a friend of mine showing no sympathy at all for her or her dying cat. My daughter took her dog to him as she thought there was a problem with the dog who was expecting pups. Bert told her the dog had a phantom pregnancy and two days later Jeddah gave birth to eleven pups.
Chester was preparing to play with Bert in a big competition when he suffered a heart attack and died. He had been a lifelong smoker but had given up smoking not long before he died. He had always kept faith with the Catholic Church and attended St Patrick's RC church in Herberton. This was where his funeral was. I attended with my and his friend Audrey. On the coffin was the Australian flag and on top of the flag was his Polish Army hat. A survivor for 90 years!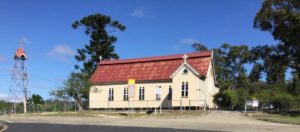 I was privileged to know him and only knew him because we both played bridge and he was a survivor.