Learning Technology through Play
Education technology is a rapidly expanding market and is expected to be worth $342 billion in 2025. However there are many critics of the way education systems are handling the challenge of IT training. Unfortunately many education systems are rooted in the past and are failing to give learners the IT skills they need in today's world. Play and learning at the same time is so important and prepares children for our rapidly changing economy and society. Learning Technology through Play will let children develop the skills essential for today.
Learning Technology Through Play – an example shown above
Above there is a short clip of a lego robot. Abby my granddaughter built the robot out of Lego pieces and then programmed it to move through software on an IPAD. The robot can do much more than shown here. It can move in different directions, sing and dance. Abby got the Lego kit for her ninth birthday and was ready to demonstrate to me what the robot could do two days later.
Lego Boost Creative Toolbox lets you learn through play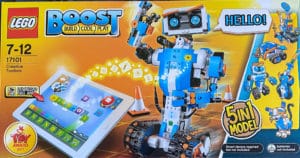 This is just one of many Lego kits that encourage kids in robotics and coding. The app to code and control the robot is a free download to an IPAD. The coding is simplified and enables the child to code in different instructions to get the robot to do different things.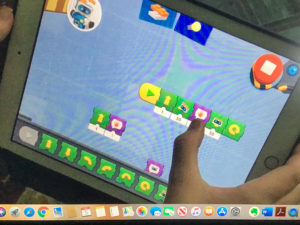 The above image shows a little about the coding. The green arrow on a yellow background starts the robot. The next up arrow moves the robot and then the robot moves its head. Abby's thumb is on a hand symbol which indicates the robot says hello. The programmer puts the different buttons in order to get the robot to perform different moves.
There are five different robots you can make with this kit but you have to disassemble the first one in order to make another.
How difficult is it for a nine year old to do robotics?
Lego says the kits are for seven to 12 year olds. It is probably the best idea to have an older sibling or parent or grandparent give some help. Working co-operatively with someone else is a very good way to learn. Abby has had a very good grounding in technology and learning through play. She played with large lego bricks before she could walk and started with an IPAD before that.
Traditional Educators versus Technology for kids
I have heard many people in Education say children should not spend much time on tablets nor should they watch much television. They say the emphasis should be on learning the basics of reading and writing first. This I think is a very old fashioned way of looking at things and ignoring the vast potential of using technology to teach through play. Technology and basic literacy and numeracy skills are not mutually exclusive.
Pre-school learning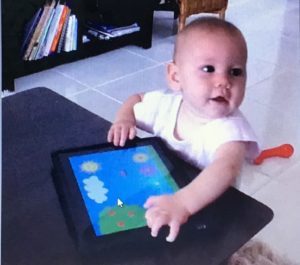 Abby started using the IPAD when she was four months old. The app on the screen is the first one we got for her. When she tapped on the flowers the petals moved. When she tapped on the apples on the tree they fell to the ground. The bee buzzed around and a flock of birds flew past. It was intuitive for her to use the tablet.
As she got older she did jigsaws and puzzles and learnt all her letters and numbers from Sesame Street and Peppa Pig apps.
More than once I haveI heard on TV that parents were advised not to let children spend more than one hour at day watching tv or using an IPAD. I am not sure how long Abby spent on the IPAD as a toddler. We did lots of other things – painting, jigsaws, walking at Tinaroo and Lake Eacham. I think the early IPAD  days were good for her. She could read and write before she started school and is interested in many things today.
She liked interactive books on the IPAD but also loved traditional stories and sat with me and read all sorts of hardback and paperback books. We also learnt a bit of Spanish together on the IPAD via Babbel. She also learnt some Swedish with the GUS app designed for children. Abby could listen to the words and see the words and pictures and there were a lot of fun games to play
Primary School
Once Abby started school there was lots of traditional learning. At home she used the IPAD and the computer to play games she liked. Her elder brothers influenced her in this. They were Minecraft Players and Minecraft again like Lego can teach basic coding making learning technology fun.
Minecraft
Minecraft is a very popular computer game. Again this is a game which allows the game player to construct creatively and involves coding principles. Kids are learning to code without knowing it!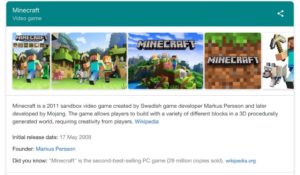 Lego Digital Designs
Most children like Lego and whilst practical hands on construction is challenging, there is a free software program which lets the student design digitally. Fortunately the program is for MacOS or Windows and is easily downloaded. It is also easy to use and understand if my grandchildren are an indication.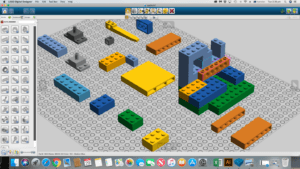 There are countless other apps which will help children learn and make learning technology fun.
Have you read?
Learning Technology through play has a lot to do with the IPAD
It was good that with Abby's ninth birthday coming up I was able to source an IPAD birthday cake. This was advertised on line at Annietime Cakes in Cairns. It was ordered by phone and picked up on the day of the Birthday. It was a great success.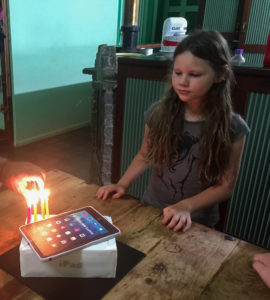 I had once made a Lego Birthday cake but the IPAD cake was much better and very appropriate.
Back to the Drawing Board
After a week with the robot, Abby took the plunge and disassembled it to build a robotic cat.