Google Chrome not working is a big problem
Like most people if I want to know something I "google it".  Also like most people I use Google Chrome as a browser. It is  on both my computers –  one is a Mac and the other is a PC with Windows 10. I also have Chrome on my IPAD. It came as a shock when on my Windows 10 laptop I was unable to Google. I could not open the Google Chrome browser. It has been working the previous day. I tried to reinstall Chrome on the laptop but it did not work.
Luckily I could still get into Chrome on the IPAD and the Mac where I could still Google so I googled to find out what the problem was. It was obviously connected to a PC problem with WIndows 10.
Google Chrome no longer working as a result of a Windows 10 update
The latest Windows 10 updates have caused problems with programs installed in the operating system. Google Chrome is one of these and it happens to be the web browser most computer users prefer to use. After the update you may not be able to use Chrome or browse the Internet or even download apps including a replacement Google Chrome.
Windows 10 update problems – for more on this click on link below
https://www.maketecheasier.com/latest-windows-10-update-problems/
How to fix the Google Chrome problem
You can fix it in Safe Mode.
Safe Mode allows you to fix problems affecting your system. Not all drivers are  loaded and the start up process is shorter and not as many resources are used. Click on the link below to find out more about safe mode and how it works.
https://computer.howstuffworks.com/question575.htm
How to get into safe mode with Windows 10.
1   On your home screen click on the start button in bottom left of screen. and the settings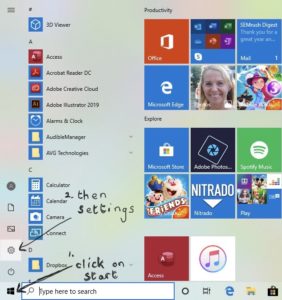 2 From Settings
3 Then choose Update and Security and then Recovery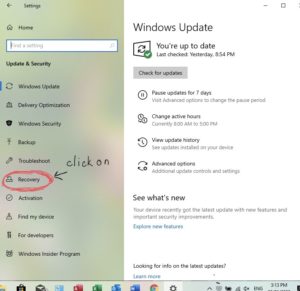 4 Under Advanced Settings in Recovery select Restart now
5 After your PC restarts to Choose an Option
6 Select Troublshoot > Advanced Options>Startup Settings>Restart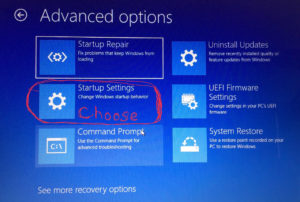 7 You will be given the option to Start in Safe Mode – choose this.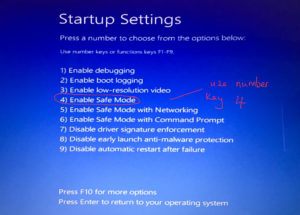 Clear the Cache in Google Chrome
In Safe mode you will be able to open Chrome but will not be able to access the internet.
With Google Chrome open click on the three dots at top right hand corner of screen to open menu.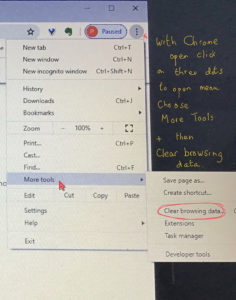 Then click on More Tools and finally Clear browsing data.
This will clear the cache and when you restart your computer Google Chrome and Google should be working.