Can you put a smart phone into your hand?
Can you put a smart phone into your hand? This seems a strange thing to Google. Recently I watched the BBC drama series "Years and Years" on SBS. Interestingly it tells the story of a family from Manchester over 15 years from 2019 to 2034. Topically "Years and Years" addresses lots of current issues and developing technology is one of them. In this way human microchipping is introduced in Episode 2. Bethany has her phone implanted into her hand and can receive calls and talk to the caller by speaking into her hand. See a clip from this episode which really explains the concept of microchipping.
Years and Years: The Future is Hand Phones

Give technology a hand. This is really quite impressive 👏👏

Posted by BBC iPlayer on Tuesday, May 21, 2019
You can still watch this series on SBS on demand.
In addition to the implanted phone there are a lot of other tech advances which will make you think,
Is this view of the future of microchipping humans feasible?
As I was unsure of how close to reality it was to suggest smart phone implants, I googled the topic.
There was a vague idea in my mind that some microchips had been implanted and I knew there was micro tagging of animals. I thought I had heard that prisoners out on licence could be tagged but were these tags implants? However it was a surprise to find what developments there are in human bio implants.
What is currently happening with Human Microchipping?
Background on Implanting Microchips in the human body
In 1998, British scientist Kevin Warwick, became the first human to receive an RFID microchip implant. RFID stands for Radio-Frequency IDentification. The acronym refers to small electronic devices that consist of a small chip and an antenna. The small chip typically is capable of carrying 2 000 bytes of data or less.
However since 1998 development in this field has been slow. But recently there has been more interest in using implanted chips for business security. In 2018 employees at Three Square Market, a technology company in Wisconsin, had a small chip injected in their hands for security convenience. The employees could not log on to their computers without swiping their hand with the chip in it. It still would not let them log on unless they had used the bio-chip to get into the building in the first place.
What do these chips look like, and how and where are they implanted.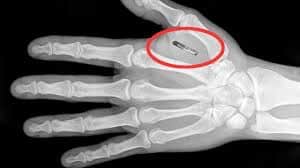 Surprisingly they are implanted using a hypodermic needle and placed between the thumb and index finger. One recipient reported that it was extremely painful but the pain passed when the needle was withdrawn.
What other uses do these implants have?
Identification
As well as security for entry into a place of work, they could also be used for passports and visas. You would only need to wave your hand in front of a scanner at the airport or border. They could also hold driving licence information.
Making Payments
You could use your credit card by simply showing your hand to an eftpos machine. Chipped customers can simply wave their hands instead of Apple Pay and other mobile payment systems.
Operating Equipment
With a chip implant you can open doors, start cars and operate home automation systems just by waving your hand.
It was widely reported late in 2019 that chip implants are especially popular in Sweden. "More than 4,000 Swedes have adopted the technology, with one company, Biohax International, dominating the market. The chipping firm was started five years ago by Jowan Osterlund, a former professional body piercer. The Swedes apparently prefer to have a chip which will open doors so they do not have to worry about losing a key.
Medical Benefits
Pacemakers
It has been pointed out by many commentators that heart pacemakers which have long been in use are implants.
Bionic eyes
Bionic Vision Technologies Pty Ltd (BVT) announced medical researchers had successfully restored a sense of vision in four blind people with its bionic eye as part of a clinical trial in Melbourne. Researchers said they were "very pleased" with the progress of all four patients who have had a "sense of sight" restored. All four have a degenerative genetic condition called Retinitis Pigmentosa which causes loss of vision.
Diabetes
New implants could help type two diabetes without the use of needles.
Medical Records
Our medical histories could be put on a chip and could be accessed when we are in need of medical assistance.
Tracking vital signs
Three Square Market estimates that it will be selling chips capable of tracking a wearer's live vital signs in a little more than a year. However a few other developments will come first. Already Fitbit can log heart rate and produce monthly reports on weight loss. Fitbit is not at present implanted but worn on the wrist.
Boost memory
Other research, suggests chip implants can provide stimulation to the brain. This could assist with Parkinson's disease. It could also boost memory function.
But back to our key question:
Can you put a smart phone into your hand?
Are implanted smart phones feasible?
This is where we came in. Could a chip implant offer the convenience of embedding a smartphone in your body?
An Allure.com article gave a clue.
Chris Harrison is a professor of computer science at Carnegie Mellon University's Human=Computer Interaction Institute and works on similar themes. He noted that people wanted to do more sophisticated things on mobile phones and thought bigger screens could be part of the answer.
He then moved outside the box and said they should forget screens and use the skin, Instead of a three and a half inch iPhone why not use the 20 inch arm bone?
As a result Harrison created OmniTouch in collaboration with Microsoft. This is a device worn on the shoulder but will project the interface onto your palm not the armbone. A depth sensitive camera picked up where and when you tapped on you skin so the projection reacted with it.
Experts say embeddable "phones" or devices that are implanted in the body that use wireless technology could be commercially available by 2023. This is a heading from Cnet.
The mobile phone of the future will be implanted in your head – CNET
A Few Good Privacy Questions 
Obviously Bio Microchips cause concerns about privacy issues with many people and ethical concerns with religious groups.
Consequently most of the same questions that surround cybersecurity and privacy in other disciplines apply to this microchip implant topic.
Click on the link below to see a listing of the benefits and downsides of implanting microchips.
benefits and downsides of implanting microchips
Can you put a smart phone into your hand?
Undoubtedly it could happen and importantly benefits to my family would be fewer lost phones. fewer cracked screens and fewer phones dropped in concrete or the Wild River.