My first IPAD
I got my first IPAD in 2010 shortly after I retired. It was IPAD1 with no camera and was quite heavy compared to today's model. I loved it and used it for talking books on long car journeys, watching movies, playing Bridge online and downloading recipes from the Internet. I used it to learn Swedish , my husband's native tongue and I spent a lot of time with my granddaughter Abby on the IPAD which she started using when she was four months old. She learnt her letters and numbers, did jigsaws, sang along, did paintings and read stories. Below is a picture of her with the old faithful IPAD1 which she still has.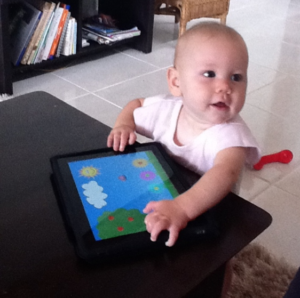 never too old or too young for technology click on link
Camera IPAD3
In late 2012 I got an IPAD 3 which had a camera and better graphics and used this regularly until July this year. There was nothing wrong with my IPAD3. It was reliable and I had plenty of storage and I was reluctant to change it. Why should I upgrade?
The IOS on IPAD3 could not be updated and several applications I had could not be updated because of this. I could not use the Mobile Banking App on it though I could use it on my husband's IPAD Air2. Did I really need to spend the money on a new IPAD.
So what decided me to take the plunge. I subscribe to the Adobe suite of programs and have done work on Photoshop, Illustrator and Lightroom. I received promotional information from Adobe about Spark. Spark it said could be used to produce graphics for social media. It could be used to produce blogs and videos for speedy advertising. My daughter writes apps and was keen to develop social media advertising so I thought I would look at Spark but no. Having downloaded it I was told I could not use it on my IPAD as it needed a more recent IOS system.
Latest IPAD 2018
I reluctantly logged on to the Apple Store to see what a new IPAD would cost. The latest IPAD was advertised and in the specifications it said the IPAD pencil would work on this IPAD. The IPAD pencil interested me. I had taught Business Administration and taking notes on a tablet with a stylus had been one of the things we had tried. To be able to write on the IPAD with a pencil for note taking was impressive I thought.
The other thing that finally sold me a new IPAD was the gold case with a rose pink cover. This I know is not a sound reason but the Apple sales pitch worked on me. I ordered the same day and four days later my new IPAD and Apple Pencil were delivered to my door in Far North Queensland.
I have not been disappointed. The new IPAD has so many features I like and I have expanded my knowledge of software and used Spark Post, Spark Page and Spark Videos. I have uploaded videos to YouTube and learnt to capture web pages on Evernote and learnt to take notes with the pencil in Penultimate. Catherine, my daughter and I are trying to expand our business presence on social media – something we are as yet not very good at. My office now looks very different. I can use a logitech keyboard with the IPAD as well as the built in keyboard. The keyboard is five years old but connected straight away as did the apple pencil.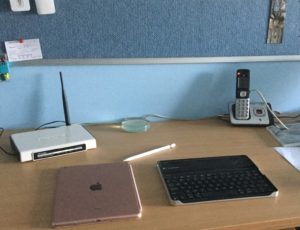 There is some irony in all this.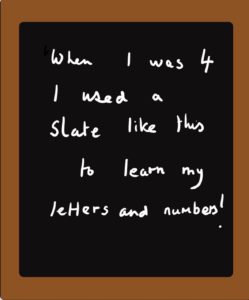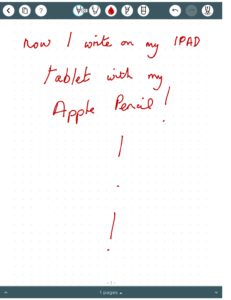 Four months later!
It is almost the end of the year and I am still thrilled with my apple pencil  What have I learnt to do with it? I have used it for note taking. Using the free software Penultimate I can take handwritten notes and as Secretary of my Bridge Club found it very easy to take minutes of meetings = the pen is so smooth and quick. Penultimate works well with Evernote so the handwritten notes are saved in Evernote automatically.
My granddaughter Abby loves to draw with it. She started drawing in Notes where the pencil works well. We then tried Adobe Draw and the pencil works really well there. You can bring in a photo, reduce the opacity and draw on the picture, It allows you to trace and allows you to use shading which you can match quite well. I can see that it is an excellent tool for learning to draw. This is still a work in progress but I have made a start on this photo of Leif's mother taken in the early 1930's.
It will get better!